South Hunsley's Under 13 Girls Football Team qualify to play at Wembley Stadium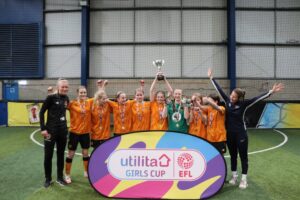 South Hunsley's Under 13 girls represented Hull City's Tigers Trust last week in the Utilita EFL Cup Northern Final at Powerleague Derby.
The team's first game was against Shrewsbury, which they won 6-3, and despite being defeated in their second game by a very strong Wigan team, they came back strongly in their 3rd game against Blackpool, winning 5-0. This led to the team qualifying for the final against Wigan.
Despite having lost to Wigan in the group stages, the team gave the performance of their lives showing both determination and resilience. After an extremely tense match, Hunsley came out on top, winning 7-3 and qualifying for the final at Wembley!
The day concluded with Derby Community Trust hosting a tour of the stadium and a celebration for all the students that had taken part. The team will now travel to Wembley at the beginning of April. Their day will include a Wembley Stadium tour, their EFL cup final game and then the opportunity to watch the EFL Papa John's final.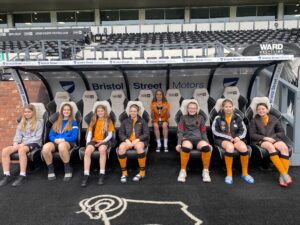 This is a fantastic achievement by the team who fully deserve the opportunity to play at Wembley Stadium. We would also like to say a special thank you to Miss Bramhill who has worked so hard with the team throughout the tournament, hosting after school training sessions and supporting the team at all of their games.
We wish all the girl's the very best of luck for the final.