Safeguarding and Inclusion
---
Safeguarding
Any safeguarding concerns should be reported to a students Head of Year in the first instance via email. Should you have any immediate concerns please contact our Designated Safeguarding Lead Mrs M Trainor directly via telephone or email: mitch.trainor@southhunsley.org.uk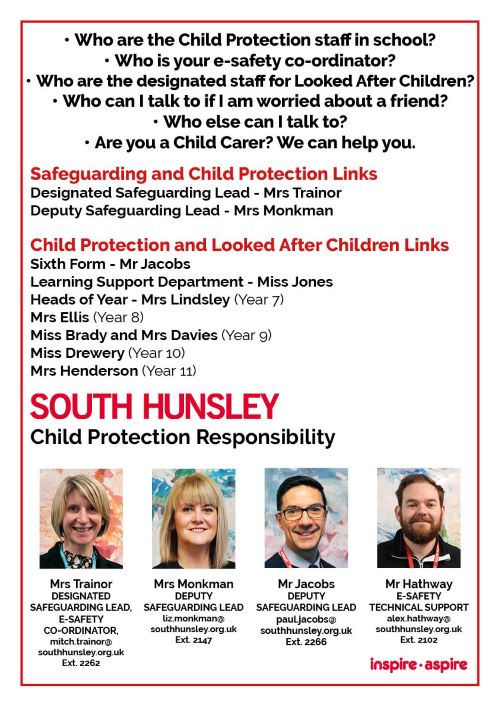 ---
Inclusion
Inclusion is at the heart of everything we do.
We want all our students to have a love for learning but we realise that some students need this aspect of their school lives nurturing. We want all our students to reach their full potential but we know for some students practical help will be needed. We also want our students to recognise their individual talents and abilities and achieve their goals.
The Inclusion Team comprises of a wide range of specialists who work together with parents and carers to help students achieve their best and feel included in all the opportunities on offer at South Hunsley.
The primary focus of the Inclusion Team therefore, is to constantly review how we support our students and ask the most important question: what does this student or group of students need and how can we meet those needs?
The efforts of our Inclusion Team have been recognised by Ofsted who praised the 'high quality additional support and care' provided to those students who might need some practical help or extra guidance to make sure they have every opportunity to grow and flourish as individuals.
We have a dedicated Special Educational Needs & Disabilities (SEND) team at the school, who can offer a range of support techniques for students who have additional needs.
Inclusion Quality Mark
In Summer of 2019 we were delighted to learn we had been successful in not only achieving the Inclusion Quality Mark award but that we had also attained the higher level of Centre of Excellence; an accolade that fewer than 300 schools across the country hold. This recognises the truly inclusive nature of South Hunsley School.
In the Summer of 2020 we were delighted to learn that our annual reaccreditation as a Centre of Excellence had been renewed, recognising the continued work we are doing during the Covid-19 crisis. The award was renewed again for the year 2021.
---
Free Period Products
Students and parents are able to order free discreetly packaged sanitary products from the school, available to collect from Reception. Please complete the online form and allow 24 hours for processing. Urgent items can be collected from Head of Year offices.
---
Social Networking
Given the increased use of social networking at this time Internet Matters have released a helpful guide to let you know what social networking sites your child is allowed to access dependent on their age. You can find out more here: www.internetmatters.org
---
Staying Safe in Autumn
Cycling
For safety reasons, bikes should all be equipped with lights and correctly fitted bicycle helmets worn at all times. Please use the designated school path and not the main road for access to the school.
Collection & Drop Off
We encourage parents to drop off and collect students further away the school site to avoid risk of injury and to ease congestion. If this is unavoidable, when accessing the school from the Welton side please use the Lowfield Lane bus park. When coming in from the Swanland side, please use the D Ring main entrance.
Staying Safe in Summer
Please see below some useful guidance and website links for parents to ensure that our students have an enjoyable and safe summer break.
Welton Waters
We are aware that some of our students have been visiting Welton Waters. Whilst we would strongly encourage students to ensure that they are following social distancing guidance and also are not entering the water, please see below links to the Welton Waters website and also open water swimming guidance for information:
Fire Related Incidents
Humberside Fire Service have asked us to share this poster for information relating to a recent increased in deliberate fires within East Riding of Yorkshire.
Drug Advice
If you have any concerns about drug use amongst young people, Talk to Frank is a very honest and occasionally blunt website full of useful information. Below is a link to their parent / carer information:
If at any point of time you are concerned about a young person, please use the contact details below to access support, or call 999 in an emergency.
---
Useful Links and Numbers
www.kooth.com (Online Mental Health support platform)
www.ltai.info (Information about online radicalisation)
www.thinkuknow.co.uk (General information about online safety)
www.internetmatters.org (Online safety guidance for parents)
www.net-aware.org.uk (Specific information about individual applications / websites)
www.youngminds.org.uk/find-help/for-parents/ (Mental Health advice for parents)
www.youngminds.org.uk (Mental Health advice for students)
www.nspcc.org.uk/keeping-children-safe/coronavirus-advice-suppport-children-families-parents/ (Information about keeping children safe from abuse during COVID-19)
www.autism.org.uk/services/helplines/coronavirus/resources/helpful-resources.aspx (Information about how COVID-19 may affect Autism)
www.childbereavementuk.org/pages/category/coronavirus (Information about bereavement and loss during COVID-19)
www.howareyoufeeling.org.uk (Online Mental Health support platform)
Humber Young Peoples Urgent Mental Health 24/7 Helpline – 01482 301701 option 2.
Hull & East Yorkshire Mind Infoline is now available 24/7 – 0800 1380990 or 01482 240133.
HEY Mind need your help to shape the support they provide for parents during lockdown. If you can please spare a few minute of your time to fill in this short survey they've created: www.surveymonkey.co.uk/r/XHZ338T
Government advice to parents and carers on keeping children safe from abuse and harm during Covid-19.
Early Help and Safeguarding Hub – 01482 395500
Place 2be has produced some helpful resources for students returning back to school. You can view them here.
Young Minds has produced a page for those students who were due to finish their time at school this year but had it cut short due to lockdown. You can view it here.