SHS Creative Arts Department presents Summer Showcase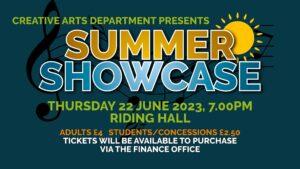 This year's Summer Showcase brought together an eclectic mix of performances that highlighted our students' diverse skills and artistic expressions. From musical numbers to theatre, the production showcased the broad talent and hard work that our students have put into their studies over the past year.
The evening began with renditions of Bruno Mars' Locked out of Heaven,  Amy Winehouse's Valerie by The Goldstones, as well as an original song.
Next up the Year 9 and 10 Dance Companies performed a routine to Woman Like Me/Wasabi by Little Mix, followed by an ABBA favourite Super Trouper by Megan, Grace and Sophie and a monologue by Chloe.
An original dance routine to Look What You Made Me Do/Ready For It? by Taylor Swift was next on the line-up, performed by the Year 7 and 8 Dance Companies. The audience were then treated to a two song preview of the popular Broadway show Six by Musical Mayhem – singing the songs Ex-Wives and SIX.
Dayna and Daisy then read an extract of playwright Natalie Mitchell's book When They Go Low – a play exploring the themes of feminism and the teenage experience in an online world.
The Key Stage 3 Drama Club were up next, performing an extract from their original play called OK, Computer, followed by the Secret Singers with Joseph and the Technicolour Dreamcoat.
Next on stage were the BTEC Dance Group performing a contemporary piece, followed by Stars sang by Jacob and One Day More by Jacob, Sophie, Matylda, Harry, Payton, Dexter and Ben.
An extract from The Blue Electric Wind by Brad Birch was up next, performed by Alfie and Zaki and a solo dance piece by Zoe.
Closing the show were the BTEC Dance Group performing an original routine to Rihanna's Where Have You Been.
The success of the Summer Showcase would not have been possible without the efforts of the Creative Arts Department, student volunteers and the performers themselves.