Robert Blackburn Scholars 2021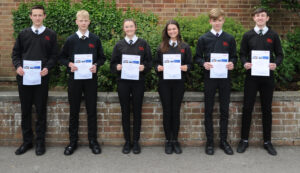 Following an intense selection process, we are delighted to announce that six of our students were chosen for the Robert Blackburn Scholarship programme following a design and make task and interview. A celebratory lunch took place before half term with Maddie E, Lily P, James R, Jack M, James M and Adam R who have been working on a project over the last 18 months with Mr Irwin-Smith, Mrs Beharrell and two ambassadors from BAE Systems.
As part of this year's project, students had to design a vessel to safely hold an egg which would be launched from a bottle rocket. They then had to develop a release method along with a parachute to ensure the safe landing of the egg back on the ground.
Just before the pandemic began, the students had worked really hard on their designs and had developed a range of prototype parachutes. They were then able to test these from the balcony at school, focusing on size, shape and materials of the parachutes to determine the most successful idea.
Unfortunately this is as far as they got due to the pandemic so they were unable to complete the project fully. However, the students were very successful in the work they had produced and are all really keen on pursuing a career in Engineering and Design. Congratulations to all students involved in the process, we wish them every success for the future.