As part of The Education Alliance (TEAL), we are extremely fortunate to benefit from the TEAL Be Well programme. This programme provides emotional and wellbeing support for pupils, parents/carers and staff in addition to what schools are normally able to offer.
The TEAL Be Well Programme is a unique resource commissioned by The Education Alliance to increase mental health provision for children, staff and parents/carers across the schools in our Trust, including South Hunsley School and Sixth Form. The programme is made possible through close partnerships with several organisations and is made possible with the support of Pagabo.
At South Hunsley School and Sixth Form, the Be Well Programme consists of two elements:
Hull and East Yorkshire (HEY) Mind – The Whole School Approach for all children, parents/carers and staff
SMASH – (Social Mediation and Self Help)
Hull and East Yorkshire (HEY) Mind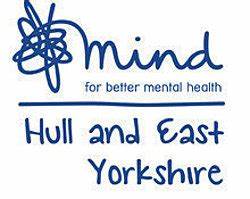 Sally Mulligan from HEY Mind is based in South Hunsley School for two days per week (Monday and Tuesday).
Our school community is supported through a range of activities, including:
High quality training and support
A commitment to ensuring we have trained Youth Mental Health First Aiders at a ratio of 50:1 within our school. These members of staff wear green lanyards, so they are easily identifiable for students
Access to a listening service for pupils, parents/carers and staff as a drop-in service, in person or virtually
An age appropriate workshop for all pupils
A range of workshops for parents
Access to a high quality training programme for young people who wish to become Wellbeing Ambassadors
Intensive student support through the 'Big Umbrella' programme
Parents/carers are able to seek support from Mind directly by either speaking to Sally during parent's evenings or contacting her directly on SMulligan@heymind.org.uk She can provide a listening ear or signposting service depending on individual need.
During the academic year 2022-23, 55 pupils were supported through the activities offered by Mind and a total of 129 sessions took place.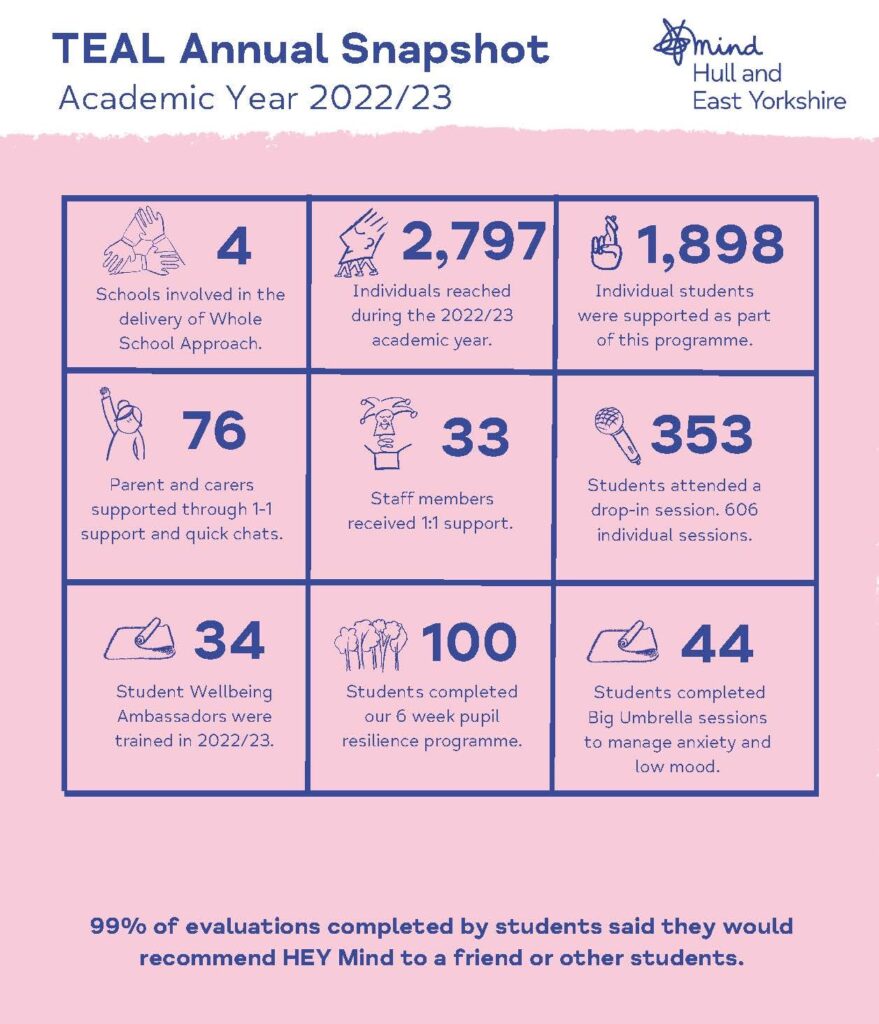 Social Mediation and Self-Help (SMASH)
The SMASH programme supports young people that have emotional and mental health difficulties and is an evidence based intervention that offers 1:1 support, therapeutic group work and family outreach. Last academic year, 55 students benefited from SMASH support by either attending group intervention (KS3) or individual sessions (usually KS4). At South Hunsley School and Sixth Form we are supported by two SMASH practitioners who, between them, provide cover for the full week.
Core areas of the SMASH programme are:
Self Esteem
Empathy
Relationships
Sense of belonging
Trust
Responsibility
Choices
Risk and Safety
Mental Health Resources
Supporting the wellbeing of children has never been so important. SSS Learning have produced two fantastic free top tip resources that could help in keeping mental health at the forefront.
Child Mental Health & Wellbeing – Top 10 Tips for Parents/Carers
Child Mental Health & Wellbeing – Top 10 Tips for Parents/Carers
Mental Health Support Charity – Joe's Buddy Line
---