Year 8 Pupil George Excels in Swimming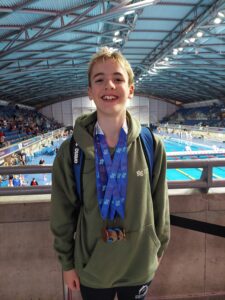 Congratulations to Year 8 pupil George who was awarded with 4 bronze medals for various races in swimming.
George spent last weekend in Ponds Forge in Sheffield at the North East Regional Winter Championships, where only the top 4% of swimmers in the country make these regional championships. He swam in 9 events and made 8 finals, going on to win 4 Bronze medals in 50m, 100m and 200m Butterfly and 100m IM. George is currently ranked 5th in Britain for his Butterfly.
As well as this, George has secured his place on the Swim England Talent Pathway 23/24 and is looking forward to the extra opportunities this will bring. He has also recently increased his training and now swims for both Pocklington and Kinston upon Hull Swimming Clubs.
Keep up the fantastic work!