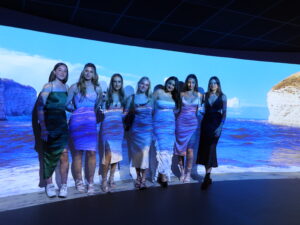 The much-anticipated Year 13 Prom took place at local Hull hotspot The Deep earlier this month, as students arrived dressed to the nines to celebrate the end of their South Hunsley Sixth Form journey.
With the mesmerising marine backdrop, students were welcomed to The Deep with photo opportunities with their friends as they gathered.
After mingling at the restaurant bar, the students took to their tables for a sit down three course meal served by the waiting staff.
During the course of the night, students and staff were able to explore some of the aquarium exhibits such as the ice cave, jellyfish collection and large fish tanks that sat at either side of the dining room.
Following their meal, Sixth Form Director Mr Jacobs invited members of the Student Union and Prom Committee to join him as he gave out the prom awards that the committee had written up – coveted awards such as Best Dressed, Most Likely to be PM, Best Teacher and even Worst Driver were all allocated to the deserving winners, as well as many other awards.
Before dancing the night away, the students had the opportunity to enter into a prize draw, winning gifts including toiletry wash bags, cook books and vouchers – items which will be vital if they are planning to go to university later in the year!
The evening was a fitting send off for our Sixth Form students, who will certainly be missed by their teachers. Congratulations to you all and we wish you all the best with your exam results and beyond.