Year 11 Student's Future Takes Flight
We are very proud to learn that Year 11 student Finnley has been offered a scholarship by the aviation and aerospace organisation Air League.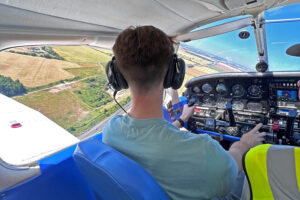 Finn gave us more details on his achievement to tell us about the application process, in the hopes that this will encourage any other students who have an ambition to fly to follow their passion.
"I have been awarded a 12-hour powered flying scholarship by the Air League. This is a members only club with an annual payment which allows you to apply for various scholarships and bursaries with no guarantee of success. The company also host many events such as dinners and receptions in which you can "network" and talk to other like-minded individuals.
The selection process was unlike anything I have been involved in before. It started with an initial application which included several anecdotes about myself and any previous experience within the aviation industry. After this, a formal interview was conducted. Sadly, I could not accept the invitation to meet the panel in person at British Airways Headquarters due to my GCSE exams, so mine was via Teams.
After this, there was around a three-week waiting period until I was contacted with the news that my application had been successful. The Air League offered 3, 5 and 12 hour awards to the successful scholars and I was given 12 hours. The aim of the 12-hour scholarship is to allow the recipient to go solo by the end of the course. The course will be 10 days and 10 nights with flying as well as ground school every day. I will be conducting my scholarship at ACS Flight Training based at Perth Airport, Scotland. The Air League also pay for all my food, accommodation, and transport to and from the airport during my stay.
It is truly a privilege to be awarded this prestigious scholarship and feels like a huge milestone in my many efforts towards my future ambition to fly."
Thank you Finn, we look forward to hearing more about your future in flight!