The Winter Performing Arts Showcase
This year our students took to the big stage for their Winter Performing Arts Showcase at Middleton Hall, which forms part of the University of Hull.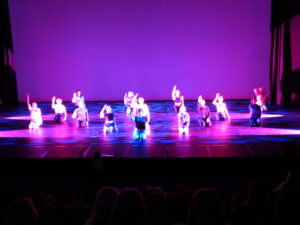 Middleton Hall is a 400+ capacity venue that benefitted from a £9.5 million investment, transformed into a world-class venue often used for classical music events, surround sound cinemas and theatre productions.
Wednesday morning began with music soundchecks on stage, ensuring that the instruments were tuned and wired correctly as well as an opportunity for the students to warm up their voices ahead of the show. During the afternoon, our dance, theatre and monologue performances were also given the opportunity to rehearse their routines alongside stage lighting and sounds.
The morning rehearsal students were lucky enough to be given a tour of the music department around the University whilst the dance groups were doing their soundchecks. Lecturers from the University took small groups of students to see the recording studios around the building as well as the ensemble rooms, instrument loan-out centres and other music focused facilities that they can utilise if they choose to study at Hull.
After a well-earned break, students began to get ready for the show before doors opened at 7.00pm and the seats started to fill up. Almost all tickets were sold out, as friends and family came along to see the talents that our students have honed during their time at South Hunsley School.
Act I
Compositional Workshop – South Hunsley Band
Amazing Grace – Millie and Lily M
Burn – Rachel W
Down by the Riverside – South Hunsley Choir
Halo / Walking on Sunshine – South Hunsley Choir
Starry Done – Honey G
Greatest Showman Medley – South Hunsley Choir
Lost to my Past – Isabel R
Ukrainian Lullaby – Senior Ensemble
Darling – Amelie C
Rise Up – Senior Ensemble
Call of Silence – Ruby A & Honey G
With or Without You – Izzy F
Stay – Evie G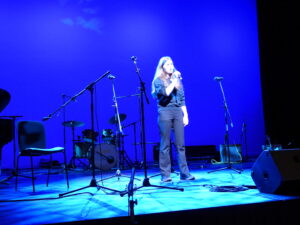 Act II
Everybody's Talking About Jamie – BTEC Dance
An Extract from 'Terry' – Allister A & Leo W
Your Song – Y7 & Y8 Dance Company
A Monologue – Matthew H
Rain on Me – Y9 & Y10 Dance Company
An Extract from 'The Tempest' – KS3 Drama Club
Hurts so Good – BTEC Dance
An Extract from 'A Slight Ache' – Jessica C & Matthew H
Dance Solo – Ava B
When You're an Addams – Sixth Form Production Cast
Y10 Ballet Dance Solo – Emily H
Bounce Back – Y7 & Y8 Dance Company
Extracts from 'Dahling You Were Marvellous' – Chloe W, Christian R, Harvey S & Henry Y
Fallin' – Y9 & Y10 Dance Company
Finale
We are immensely proud of the students who took part in the show, you were an asset to the school and proved that hard work pays off.
Thank you to all staff and parents who helped to make the show a success, we hope to see you there again next year.