South Hunsley's Under 16 Netball Team secure 11th place at the National School Finals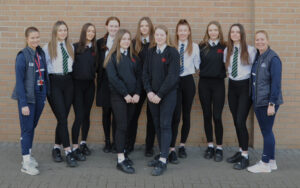 At the beginning of the year, South Hunsley led the way in the Regional School Finals and qualified in the top 2 teams for Yorkshire and Humber to compete at the National School Finals. On Saturday 12th March, the top 18 teams across the country in the under 14, under 16 and under 19 age groups travelled to attend the National School Finals at Oundle School in Peterborough and competed to be crowned national champions.
The team played a total of 7 matches and did exceptionally well in each of their games. The girls worked hard as a team and performed incredibly well, achieving 11th place across England.
Mr Williman, congratulated the student's on their achievement, "Congratulations to our Under 16 Netball Team in gaining 11th place in the National School Finals. This is a fantastic result and one of which the team should be very proud. Well done to everyone involved and a special thank you to Mrs Sprakes and Miss Bramhill for the time they have put in to coaching and supporting the team."